ISASE 2022
Symposium Information
It is our great pleasure to welcome you to attend ISASE 2022 – the 8th International Symposium on Affective Science and Engineering on March 27 (Sun.), 2022. The main objective of the symposium is to bring together academics, engineers, manufacturers, and government officials to present and exchange knowledge, experience, results, and information related to the broad aspects of methodologies employed in affective science and engineering. Affective engineering is a new propelling technology that can enable us to bridge gaps between humans and systems. The scope of the symposium also covers all fields of advanced technology and science, manufacturing, production as well as design.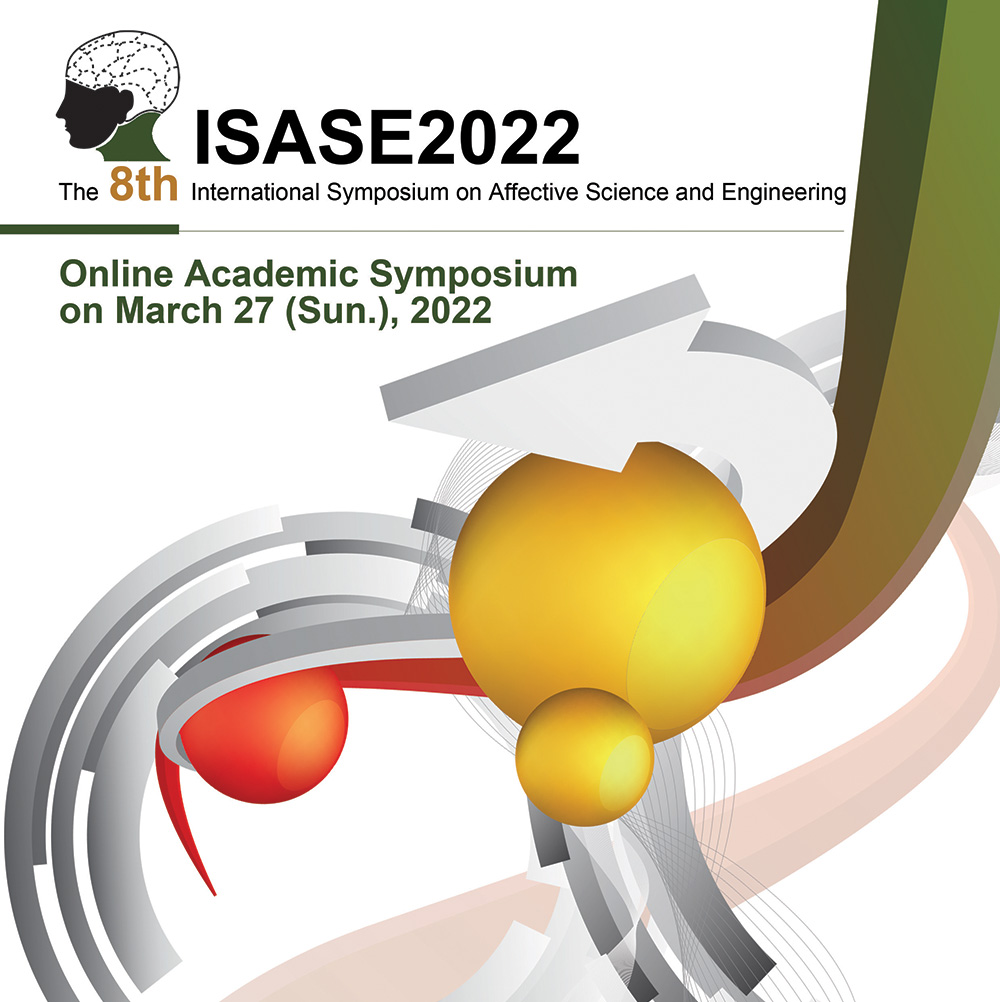 Online Symposium
The symposium will be held online, where real-time oral presentation sessions and live discussions will also be taking place.
This symposium is partnered with JSKE 17th Spring Academic Conference; participants registered to ISASE2022 will also be able to listen to keynotes and presentations from JSKE 17th Spring Academic Conference.
We warmly invite you to become a guest at our online symposium and help us promote the newest developments and ideas in our field.
Theme and Scope
Affective Engineering and Design research has been expected to assist progress of societies with various research fields such as engineering, economics, and psychology. The Workshop on Affective Engineering and Design aims at exploring ongoing efforts in the theory, design and application on a wide variety of research fields related to Affective Engineering. The workshop provides an opportunity for academic/industry researchers and professionals to share, exchange, and review recent advances on Affective Engineering research. Original contribution describing recent modeling, analysis, and experiment on Affective Engineering and Design with particular, but not exclusive, regard to:
| | | |
| --- | --- | --- |
| ・Affective Science & Engineering | ・Affective Design | ・Business Administration |
| ・Affective Information | ・Emotional Design | ・Soft Computing |
| ・Affective Robotics | ・UX Design | ・Brand Identity |
| ・Affective Education | ・Fashion Design & Business | ・Designing Pleasure |
| ・Affective Computing | ・Interface Design | ・Culture & Design |
| ・Affective Measurement | ・Interaction Design | ・Psychology of Cognition |
| ・Affective Marketing | ・Affective Innovation | ・Affective Ethnography |
| ・Affective Business | ・Affective Design Thinking | ・Big Data Treatment |
| | | |
Important Dates
Paper Submission Deadline: January 31, 2022

 February 7, 2022

Acceptance Notification: February 20, 2022

 February 27, 2022

Camera-Ready Submission: March 13, 2022
Submission Procedure
Papers must be submitted via the symposium web site is required. Submitted papers should be in the ISASE's format, and should contain up to 5 keywords. Papers will be evaluated for originality, significance, clarity, and soundness, and will be reviewed by at least two independent reviewers. The detailed submission procedure will be appeared in the web site.
About the ISASE Presentation Encouragement Award (Undergraduate Division)
Purpose: To develop Kansei engineering research and foster young researchers
Target audience: Student presenters
Selection method: Judged by the ISASE Presentation Encouragement Award Selection Committee
Requirements: Manuscript must be submitted before the deadline. Deliver a presentation at the conference.
Recipients of the Encouragement Award will be announced on the website within one month after ISASE2022.
Contact
【JSKE Secretariat】
Address: Grand Heights 1003, 2-55-5 Nihombashi Hamacho, Chuo-ku, Tokyo 103-0007, Japan
E-mail: isase@jske.org  Web site: https://www.isase-ke.org/conference/isase2022/
Organized by